e-Learning Frequently Asked Questions
How do I register for an e-Learning class?
Registration is simple and takes only a few minutes. If you have already signed up for a course in your state, simply click here to select your state , then enter your user name and password and click Login Now.
If you have not previously created a user name and password, visit the New User page where you can learn more about eLearning. When you are ready to get started, choose your state from the drop-down list. From there you can click on the Register Now button under New User Registration. The registration form will provide you with instructions for registering as a new student. You should have your credit card available to pay for the course online. See below for more details about payments .
What courses are available in my state?
Course availability can be seen by choosing your state on this map , or by visiting the Home page then clicking on your state on the map. If there are no courses available at this time, you can sign up to receive an email from us when courses do become available.
What does an e-Learning course cost?
Course costs are varied, depending upon the number of continuing education credits (CEUs), also called points or hours, received. Prices range from $20 to $225 for up to 12 hours of credit.
Do you accept credit card payment online? Can I pay by check?
We will accept payment online by MasterCard, Visa, Discover and American Express. Checks are accepted at the discretion of each state Rural Water Association. Please see their website for check policy and address. All online transactions are encrypted and processed on a secure server. Learn more about how we protect your sensative data during transactions on our secure website .
Must I complete the course at once or can I come back at a later date?
Once you are enrolled in an e-Learning course, you will have 12 months in which to complete the course. You may take the course at your pace and access it 24/7 at your convenience.
It says "Someone else already has this log-in" when I try to register.
You have probably already registered in the system. Go back to the log-in page and enter the username and password you have been trying to set up. If this is unsuccessful, go back to the registration page and create a completely different username AND password than what you have been trying.
I forgot my username/password. How do I log-in?
Your username and password should always be kept in a safe place. In case of losing or forgetting it, you may call us and we'll be glad to help you retrieve your username or reset your password: 706-219-0077.
How can I find out what courses I have already taken?
Log in with your username and password. Click on "Take My Course" and it will show all the courses you have enrolled in. If you have created more than one username, you will need to check each one.
Do you track my courses online?
Yes, the e-Learning Management System software tracks your registration, enrollments, time in course, quiz scores, and course status (Not Taken, Incomplete, Passed, Completed, etc.). You may access your student history and course progress whenever you log-on to the system.
When will you notify the state that I have completed the course?
Once the Certification Module is completed and you have clicked on the "Send" button, an email is automatically sent to your state Rural Water Association, at which point they begin the process of updating the state agency, (except for those states that are not required to send to the state agency but instead keep records at their state office).
Do I receive a certificate indicating I have passed the course?
Yes, upon completion of the course and passing all quizzes, your state Rural Water Association will provide you with a certificate indicating the name of the course and hours of credit earned. This is usually completed within a few weeks of completing the course. Be sure to keep your Certificate with your records.
How can I find out how many hours/points I need?
You will need to get this information from your state, either through the primacy agency website or by calling the RWA. SunCoast Learning does not have this information.
How do I get a receipt?
When you enroll in the course, there is an option on the credit card site to enter an email address for the purpose of receiving a receipt. You should add "receipt@suncoastlearning.com" to your email contacts list to ensure delivery. If you still do not get a receipt, call us: 706-219-0077 and we will promptly send out a receipt.
What if I don't pass the course, will I be able to take it again?
Yes, if you fail a quiz, you may review the material and retake the quiz as often as necessary to achieve a passing score of 70%.
If I have questions about the course material, how do I get it answered?
Students can email their state Rural Water Association if they have questions on the course material (the link appears on the log-on page, along with our telephone number.)
Can I return my course and get my money back?
If, after completing the first module, you are not satisfied with your course we will either switch you to another course or refund your money, whichever you choose. Offer not valid if you proceed past the first module.
What are the computer/internet requirements to take a course online?
Our system runs on Windows, Mac and Linux using a modern browser (such as Chrome, Safari, Firefox, IE 11, etc.). Certain courses are also compatible with mobile devices, with more becoming mobile-compatible in the future. Access to mobile-ready courses does not require downloading an app--simply log-in with your web browser.
If you experience issues running your course, please try one of the recommended configurations below. See our support page for more info.
We recommend the following configuration for taking a course:
Windows PC: Google Chrome
Mac PC: Google Chrome or Safari 3 and later
Linux PC: Google Chrome or Mozilla Firefox
iPad/iPhone: Mobile Safari only in iOS 5.0 and later*
Android tablet/smartphone: Google Chrome*
*Only certain courses are mobile friendly at this time. Please check your state's course listing page for more details.
eLearning Convenience
Training accessed over the Internet can be taken when it's convenient for students: 24 hours a day, 7 days a week, 52 weeks a year.
Not Computer Savvy?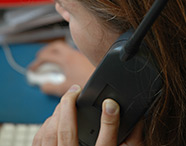 Don't worry; we can walk you through the process over the phone. We will make sure your learning experience goes smoothly. Phone support is available daily.
Call 706-219-0077 or 1-800-269-1181 from 7 AM to 11 PM Monday through Saturday, 1 PM to 11 PM on Sunday.